How Many Balloons for a Balloon Arch?
Do you want to throw your child a family birthday balloon party? But you're not sure exactly how many balloons you need? If so, please allow me to introduce this Balloon Arch Birthday Party Decoration kit .
126 Pink Metallic Balloons Pack:
These Pink Metallic balloons garland kit includes
1pcs 23*20inch unicorn foil balloon
2pcs 18 inch white ball
2pcs 18 inch powder ball
10pcs 12 inch metal powder ball
10pcs 12 inch rose gold sequin ball
5pcs 12 inch powder ball
5pcs 12 inch white ball
20pcs 10 inch powder ball
20pcs 10 inch white ball
10pcs 5 inch metal powder
10pcs 5 inch powder ball
20pcs 5 inch white ball
1 roll of 100pcs glue dots
1pcs balloon knotter
1pcs 5m balloon chain
1 roll of silver laser ribbon.
A roll of 16ft tape strip and dot glue provide a perfect DIY balloons pack for any party decorations. Adding romantic and festive atmosphere to your party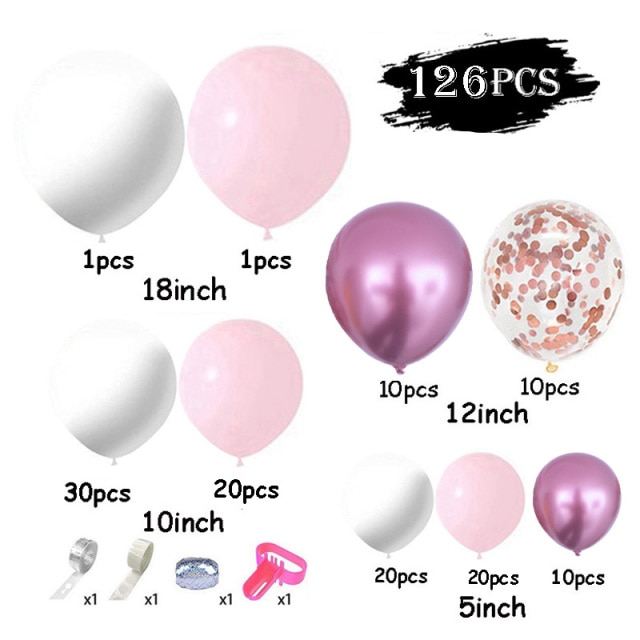 🎈The Pink Metallic balloons are made of high quality latex, safe for children. Pink metallic and white balloons won't be torn easily. A pretty balloon backdrop could liven up a party venue and win over the hearts of the people.
🎈We've put together a blend of thoughtfully selected trending balloons in Pink Metallic and deluxe white along with silver confetti balloons. An assortment of balloon sizes that complement one another ranging from mini to large premium quality latex balloons. Perfect for a baby shower, birthday party, wedding shower, anniversary or graduation party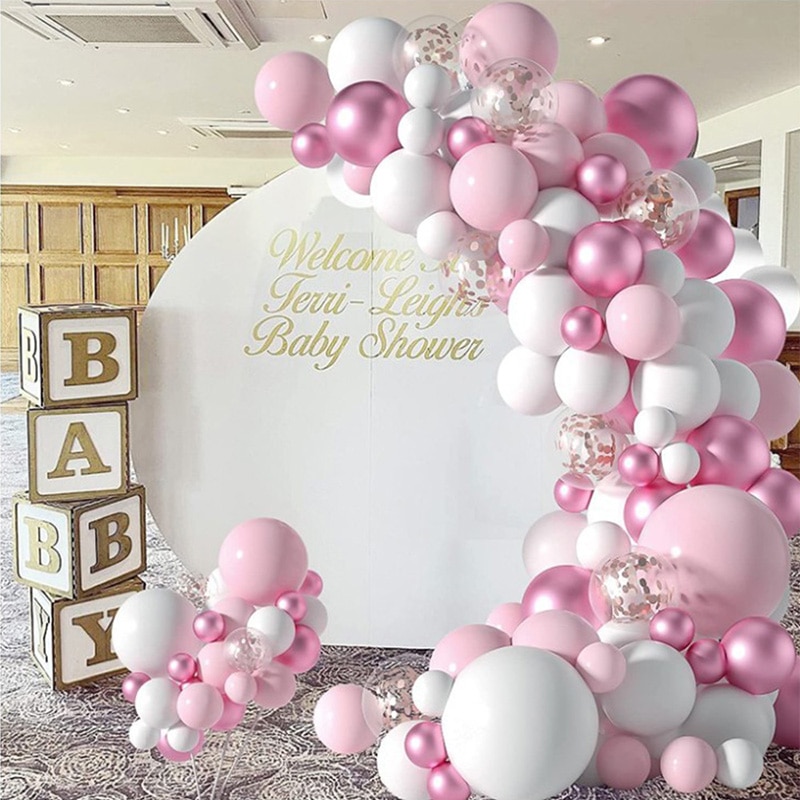 🎈We offer five tools including ribbon, strip tape, tying tools, dot glue and instructions to help you make balloon arch more easily. You can put the balloon together by balloon tape strip, and then make the garland full, using small size balloons attach to the balloon arch kit by glue dots. Also perfect for make a balloons bouquet
Notice :
Any balloon can't float when it is filled with air. It can be floated with hydrogen or helium. The cost of hydrogen is lower, but it is very dangerous when it encounters fire. When filling hydrogen, you must stay away from the fire source. Helium is Inert gas is costly but very safe.
Due to different lighting, different shooting angles, and different displays, slight chromatic aberrations may be caused. I think the real thing is more beautiful!